G Drivers & Speeding
Regardless of demerit points all speeding tickets can affect insurance
Speeding Tickets & Class G Drivers
Class G drivers face the following penalties for speeding, on top of any fine: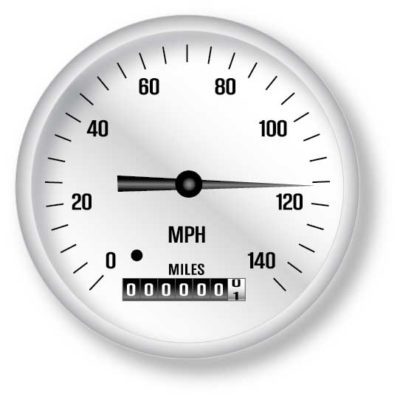 The penalties for speeding are in addition to any fine on the ticket.
The police nor the court system, are required to tell drivers the penalties for speeding.
Penalties per Speed Recorded
Class G drivers receive the following penalties per km of speed:
Where a Class G Driver is convicted of any traffic ticket the insurance maybe affected for three (3) years or more.
Speeding & Class Driver's Records
The Ministry of Transportation keeps records of a driver's driving history.  The Ministry refers to your driving record as a "Driving Abstract".
The driver's history, including all speeding tickets and driving convictions are kept forever by the ministry.  The public, including your insurance company only have access to your drivers abstract and history for the last 3 years.
Speeding tickets do not appear on the driving record/abstract until:
driver pays the ticket
the ticket has gone through the court system and the driver has been found guilty
Where the driver disputes the ticket, the ticket and any conviction is not registered until after any final court date.  Whilst awaiting the court date the ticket does not appear on the drivers record/abstract.
Should the driver's insurance renew during that time, as no conviction has been registered, the insurance cannot and will not increase the rates.
Insurance Implications
Where a Class G driver receives a speeding ticket, the effect for most people is minimal.  What drivers need to consider is the effect on insurance of any subsequent offence.
Class G drivers are encouraged to:
dispute any speeding ticket
do everything to either have the ticket removed completely,
delay any conviction as long as possible
save demerit points where possible
It's important for drivers to keep driving records clear of convictions that can affect insurance rates.
Convictions for traffic tickets are kept on the driving record for 3 years from the date of conviction. Should the driver receive any subsequent conviction or be involved in an accident, the insurance would be affected dramatically.
As the first speeding ticket was a surprise, what guarantee is there, that in the next 3 years it wouldn't happen again.
Licence Suspensions
Class G drivers are only suspended for speeding in 2 circumstances:
driver accumulates more that 8 demerit points
court suspension for speeding more than 50km/h
driver is charged with stunt driving (7 day suspension)
driver is convicted of stunt driving (up to 2 yr suspension)
Where a drivers license is suspended, the insurance rates will be dramatically affect for 3 years or more.